Welcome
We can't wait to see you!
This tranquil inn oozes charm, with it's wonderful sea views and idyllic setting you will want to come back time and time again. Whether you are drinking, dining or staying with us, your visit will always be memorable in so many ways.
Dave Etchell-Johnson
Front of House Manager
Services we are proud of
The Fishbourne is located in a picturesque and wooded enclave between the main towns of Ryde and Newport on the Isle of Wight. Situated close to the Wightlink Fishbourne to Portsmouth ferry terminal this makes us the ideal entry point to the Island to experience our quality dining and five beautifully appointed en-suite rooms.
A fantastic trip to the Isle of Wight
We had a fantastic trip to the Isle of Wight thanks to the Inns of Distinction; with a brilliant tribute event night at The Boathouse with a truly delicious meal, friendly and efficient staff and very enjoyable entertainment with their solo vocalist/guitarist Ben, followed by a superb overnight stay at The Fishbourne's lovely accommodation and breakfast. We cannot praise Inns of Distinction enough – their pubs, dining & accommodation rooms, beautiful décor, delicious food, service and staff are faultless. Highly recommended; we will certainly be back for more of their Event nights!
"Wonderful weekend at The Fishbourne"
Just spent three days at The Fishbourne celebrating 80th birthday. Really suberb accomodation and very friendly staff nothing being too much trouble. Excellent food at breakfast and dinner. Great location for anyone using the car ferry. Literally just round the corner. Will certainly be returning in the future when visiting family on the Isle.
"Will return"
Have just spent three nights at the Fishbourne for a valentine break. Accomodation was excellent, food superb and the staff were friendly and accommodating.
"Enjoyed my stay"
I stayed at the Fishbourne Inn for one night when I was away on the Isle of Wight on business. I ate in the restaurant, the food was excellent as was the wine selection. The room was very clean, comfortable. Free wifi was very useful and newspapers available in the evening and at breakfast. Good porridge for breakfast. Really enjoyed my stay and would return, recommended!
"The highlight of Christmas & New Year."
Booked in for New Years Eve with friends and family – freebie "Bloody Mary" at the door, excellent live entertainment – singer Aleishia would knock all the X-Factor contestants off the stage. Three course menu was very competitively priced and worth a lot more than the £24.95 paid – great atmosphere. Staff were very professional and a credit to the owners – looking forward to the next visit. Well done – The Fishbourne.
"So good we came back again!"
Daughter's favourite on the Isle. Excellent food, drink and service. Started our holiday off here and came back again two days later!
"Perfect"
This is a great pub that stumbled across while waiting for the ferry, so much so we ended up staying on the island. They have an extensive list of great wines and specials.
They also have rooms that you can rent, we sadly could t get in here however went to a sister hotel which was also great. Great staff that were helpful and friendly.
"Best dining on the island"
After driving for miles couldn't find a pub that met with my expectation for me eveninv out until I came across this little beauty !! Great decor – great food – great atmosphere !! nearly gave up that anything like this existed in the Isle of Wight !! Popping back for lunch in the lovely garden :))!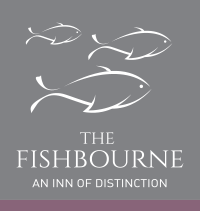 Positioned just 200 yards from Fishbourne beach we have a large patio area with summer shade where you can relax and look out over the Solent and watch the World and the cruise ships sail by.
Why Choose Us?
Awards
Included in The Good Pub Guide 2012, 2013, 2014, 2015 & 2016 'AA' Silver Dinner award from 2011 – 2021
Attention to detail
We have five newly refurbished en-suite rooms, each room tastefully furnished to provide for a relaxing break.
Great Location
The Fishbourne is situated just along from the Wightlink, Fishbourne – Portsmouth Ferry Terminal, near Ryde on the east side of the Island.
Call us
Table Reservations
01983 882823
Call Us
Accommodation &
General Enquiries
01983 873572
ADDRESS
The Fishbourne
111 Fishbourne Lane
Fishbourne
Isle of Wight
PO33 4EU
OPENing hours
THE BAR
Mon – Sat 9.00am – 11.00pm
Sun 9.00am – 10.30pm
FOOD SERVED
12.00pm – 9.30pm
Bar snacks available between and after food service times
BREAKFAST SERVED EVERYDAY
9.00am – 11.00pm